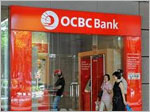 The Oversea-Chinese Banking Corporation is the oldest and most respected bank in the Singaporean market. It was formed in 1932 during the Great Depression as a result of the merger of three Singapore financial institutions: China Commercial Bank, Ho Hong Bank, and Oversea-Chinese Bank.

The resulting bank was named Oversea-Chinese Banking Corporation (abbreviated OCBC) and since its founding has paid great importance to understand and meet all the financial needs and requirements of its customers and finding appropriate solutions for this.
In 2011 and 2012 OCBC admitted the strongest bank in the world rated Bloomberg Markets, assesses the stability and reliability of banking organizations. And this is not surprising, because the basis of this strategy Singaporean bank account on the client concentration, creating a stable capital and minimizing risks.
Now OCBC Bank group in Singapore is the second largest in terms of assets and conducts its banking operations in more than 15 countries around the world as OCBC Bank and through banks belonging to it – Bank OCBC NISP and Bank of Singapore. In addition, the banking group has major stakes in other companies as well as other areas of financial services in the insurance sector (Great Eastern company), asset management (Lion Global Investors company) and in the field of brokerage services (OCBC Securities and Bank of Singapore Securities Global Banking). The 15 countries and territories where OCBC Bank performs commercial banking operations include Singapore, Malaysia, Indonesia, China, Hong Kong, Vietnam, Brunei, Japan, Australia, UK, and the USA, and the key markets are Singapore, Malaysia, Indonesia, and Greater China. Globally, the bank has more than 500 branches and representative offices (in this case 55 in Singapore, 36 in Malaysia, 400 in Indonesia, and 16 in China).
OCBC Bank offers a broad range of professional services in the field of finance and management status, including deposits and loans, credit cards, corporate banking, family Cash Management to improve the efficiency of financial management, international trade financing, investment banking, and wealth clients.
What is required to open an account for a legal entity in the OCBC Bank in Singapore?
Full package of documents for the company.
Passport
Utility bill in English.
An email address to which the device will work through the Internet bank.
Personal presence at the bank to open an account.
A minimum account balance of $ 30,000 U.S. dollars.