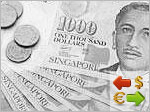 Singapore became the largest center of Asian currency trading, surpassing in this unique championship Japan.
Bank for International Settlements estimates that the average daily trading volume in the currency of the country have grown over the past three years by almost 50% and in the I quarter of this year totaled $ 383 billion, this figure is the first in the Asian region, Japan was in the lead up to this.
In the world ranking ahead of Singapore now only Britain and the U.S., the total market for currency trading is $ 6.67 trillion. It should be noted also that the ten most traded currencies entered the Chinese yuan, which certainly is the result of China government's efforts, which in recent years has been actively developing its financial market and open it up to foreign investors.
Growth in currency trading is largely also due to an increase in operations with the Japanese yen. Prime Minister Shinzo Abe in April of this year, announced the beginning of unprecedented scale incentive program that contributed major adjustments to the financial markets.
Japanese funds are among the largest in the world and often use their currency as a funding currency – this is also one of the reasons for the increase in trading volumes.