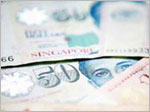 Singapore expects an economic boom in Southeast Asia by attracting investment, as at the same the government takes measures to reduce foreign labor, increases costs for salaries and companies increasingly difficult to fill vacancies.
Plan to create a single market in Southeast Asia through the elimination of tariffs and trade barriers for goods and services by 2015 will increase the chances of the country to declare itself as a manufacturing region, said Leo Yip, Chairman of the Singapore Economic Development.
The country expects to benefit, as companies create their head offices here and research centers, even if production itself is located elsewhere.
Singapore has become the leading economies of South-East Asia due to the strong technological breakthrough, becoming the largest trading port and banking center of the region, as well as one of the main manufacturers of electronics, petrochemicals, and pharmaceuticals.
Less developed neighboring countries attract higher rates of offering a vast territory and cheap labor, so Singapore is forced to seek new ways of positioning themselves to remain competitive.
"Singapore can not be called the cheap country" – said Yip. – "Companies come here because they understand, that Singapore – a place where their business will prosper."
According to the forecast of the international consulting company, most of the 600 million people living in Southeast Asia, by 2020 will apply to the middle class, and it automatically stimulates demand for goods and services. According to the Asian Development Bank, the economic growth of the region known as the Association of Southeast Asian Nations (ASEAN) will be 5.2% in 2013 and 5.6% in 2014.