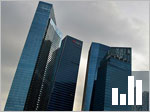 According to a study conducted by CNN Time Warner Group, Singapore is ranked 5th in the world in terms of friendliness to small businesses with only New Zealand, USA, Canada, and Australia ahead. The study took into account such factors as the time to start a business, laws, tax policies, the terms of business activity, etc.
There are a few possible reasons that attract today in this city-state foreign entrepreneurs:
– A favorable investment climate,
– The leading places in the rankings of economic freedom,
– It has no public debt,
– Stability of the economy,
– Highly educated and disciplined population
– Greatly raised the level of welfare.
On the other hand, of course, the Singapore economy has weaknesses. For example, the dependence of the city from the water supply from Malaysia, imports almost all food and energy.
Singapore's economy is based on electronics production (for European, American, Japanese, and own Singaporean companies), shipbuilding, financial sector, transport, storage, trade, tourism services, etc. The service sector employs about 70 % of the population. In addition, essential for understanding the Singapore economy is that about 75% of Singaporeans own shares in various companies.
Favorable investment climate and friendly tax policies have led to the fact that today in Singapore, there are about 130,000 small and medium-sized businesses. They represent more than 25% of Singapore's GDP. To support these companies in Singapore created a special Spring agency, which carries more than 100 different programs to help entrepreneurs: consulting, accounting, monitoring services, etc.
Separately, it should be said about the benefits and public assistance to small businesses that are just starting their business. For example, in Singapore, there are several programs concessional lending to small businesses: they involve the issuance of special loans, loan insurance, distribution of subsidies.
In addition, Singapore has an interesting program of training to work in a small business. Thus, the state pays up to 90% on training and retraining. Singaporean companies can even hire a wanted specialist teacher from abroad, and then show the account to pay for his services to the state.
Finally, with regard to the tax system in Singapore, it is organized as follows: a flat rate of 18 percent applied for a taxable income (income minus expenses) for as local, as foreign companies.
In addition to corporate income tax and the tax on goods and services, companies in Singapore are paying property tax and stamp duties. Property taxes for individuals in Singapore accounts for 4% of the property value per year.
On the other hand, the income of Singaporean non-resident companies obtained from foreign sources and not translated in Singapore is not taxed. Same for the dividends received by the founders resident of Singapore.
Separately, it should be said about the tourism industry. Thus, for a population of 4.5 million people, Singapore is visited annually by 6.8 million tourists. This, in turn, creates favorable conditions for the development of tourism in the country enjoyed by many foreigners.